Juicing Phenomenon Hits Dubai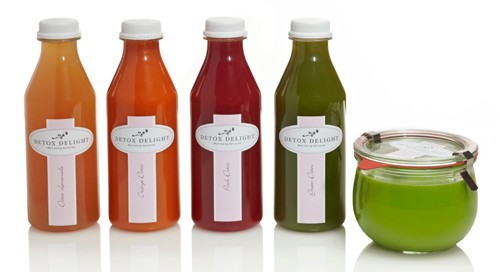 Celebs are going crazy for the juice diet – and now this phenomenon has reached the UAE
Detox-Delight.ae
German juice brand Detox Delight was the first to bring this delivery service to Dubai. The team made it easy for us offering four coloured coded juices that you drank in order, and one soup that you had for dinner. These spiralina, wheatgrass-packed drinks, would say the German dietitians, give you all the nutrients you need. What is most surprising about Detox Delight is that the juices taste good, in fact really good, and at no point during the day do you feel hungry. Prices start at Dhs1,470 for a three-day package. See detox-delight.ae.
Essentially.ae
As well as traditional cleanses, Essentially also offers Supplement Packages. This means that you don't have to go cold turkey when it comes to food. You can just use them to replace a breakfast, lunch or dinner. Packages include Work Hard Play Hard, Exerciser and Skinny Jeans. A one-week package costs around Dhs199. See essentially.ae for more details.
Café Baroque
The healthy eating café in Jumeirah Beach Residence offer a three and seven-day juice and soup programme. They offer four juices that you have throughout the day and a soup for dinner. To ease you into the juicing session, the give you a time table that kickstarts your day with a hot water and lemon at 7am and finishing with a green tea at 9pm. The team say that it will boost your immune system and energy levels.Call (04) 361 4252 for home delivery.
GO
Dietitians say that if you've been overdosing on processed food, it's good to give your body a detox session every now and again.
STOP
This isn't a time to try and score a PB at the gym. When you're juicing you need to wind down the workouts. Pilates and a power walk is about as much as your body will be able to handle.
0