Healthy Bites By Dubai's Food Bloggers Granola & Yogurt Parfait
We asked Dubai's food bloggers for their favourite healthy bites. Today Muna Kenny of www.munatycooking.com shows us how to whip up a granola treat. Once you look at this Granola & Yogurt Parfait we can guarantee it won't be a meal that you'll be missing…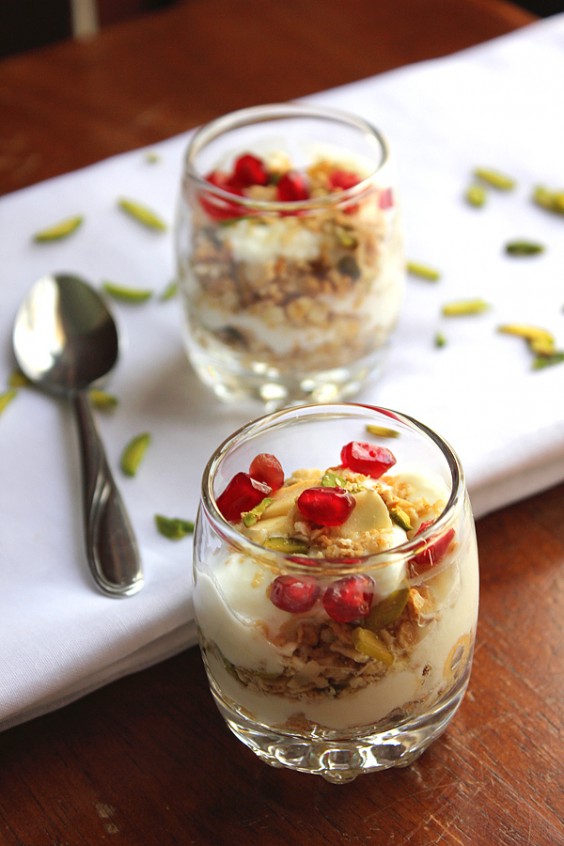 Delicious Granola and Yogurt Parfait
www.munatycooking.com

For the granola
1 cup quick oats
Pinch of salt
2 tablespoons walnuts chopped
2 tablespoons pistachio chopped
3 tablespoons almond chopped
1/4 teaspoon cinnamon powder (you can use less or more.)
1 tablespoon honey
1 tablespoon butter
2 tablespoons sugar
2 tablespoons raisins (should be added when Granola is done and out of the oven.)
For the parfait:
4 tbsp plain yogurt
Chopped fruit and nuts to serve
To make the granola: Preheat oven to 180C.
Melt butter with honey and sugar in the microwave.
In a bowl, mix all the ingredients well (except raisins).
Pour the mixture in slightly greased baking pan, and spread evenly.
Bake for 10 minutes. Take out the pan and stir the mixture. Return to oven and bake for another 4 minutes.
Now add the raisins and mix again, and you are done.
To make the parfait: Mix honey with plain yogurt (sweetness depends on your taste).
In a glass, make layers of yogurt and granola. Top with chopped fruits or more nuts.
0