Healthy Bites By Dubai Food Bloggers Portobello Mushrooms With Prawns
Written by The Sweat Shop // Sweat Fuel // Comments Off on Healthy Bites By Dubai Food Bloggers Portobello Mushrooms With Prawns
Grilled Portobello Mushroom Salad With Tiger Prawns
Serves: 4 
Ingredients:
8 large tiger prawns (raw), deveined
2 medium Portobello mushrooms
125g asparagus spears, cut and discard the lower third of the spears
150g broad beans
4 tbsp clear honey
4 tbsp freshly squeezed lime juice
2 fresh chillies (red or green), sliced (with seeds left in)
Preheat oven to 250C.
Cut most of the stem off your Portobello mushrooms and brush both sides with olive oil. Once the oven is ready, place the mushrooms inside and cook for 10 minutes (turning over halfway through). After the mushrooms are cooked, slice thinly.
Brush the asparagus with olive oil and put them in the oven with the mushrooms. Cook for 5-10 minutes until just tender but still crunchy.
Cook the broad beans according to the instructions on the package.
Heat a little olive oil in a pan, add the prawns and a pinch or two of salt. Once cooked, remove from the frying pan, but keep the oil and juices in the pan.
To make the dressing: throw the lime juice, honey and chillies into the pan you used to cook your prawns and simmer for 1-2 minutes.
Arrange and serve the salad on 4 plates. Scatter the asparagus and broad beans on the plate. Place the mushrooms in a line across the top. Arrange two large tiger prawns on top of each salad. Then drizzle over the dressing and serve immediately.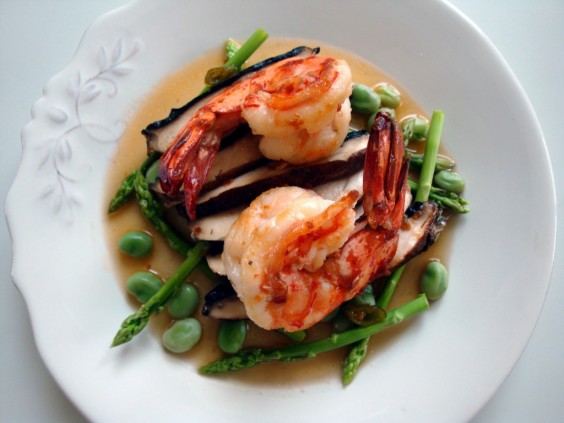 More healthy food blogger recipes coming tomorrow…
0