My Target Week
The photo shoot to mark her success story is on the horizon, but could sleep deprivation cause havoc with her weight-loss plans?
Name: Laura Burns   
Age:  28
Home: Dubai
Height:  179cm
Weight at start: 107.5kg
Weight last week: 82.7kg
"It is with disbelief that I sit here and recount last week. I had an incredibly busy but amazing time!  However, at the start of the week, I wasn't at all ready for the photoshoot that marked the end of my GloryGirl (www.glorygirlfitness.com) challenge. My little boy was ill with bronchitis, I was still suffering from sleep deprivation and I also had final interviews to prepare for as I decided to step my into the job market now that my daughter is about to start school. I felt the pressure even more as one of these interviews was for my dream job, and I really wanted to get it.
I went to my interviews on Monday and Tuesday, and then I had the shoot on Wednesday. On the morning of my shoot I went early to have my hair and make-up done by make-up artist Belinda Siosteen, and then I arrived at Paul Aiken's studio (www.paulaitkenphotography.com)  where he immediately put myself and my family at ease. I chose to do the photoshoot on my father's 60th birthday, so that the shoot would be more meaningful and I would be less likely to try and postpone it.
The GloryGirl photoshoot was an amazing experience.  I spent three hours either posing in front of the camera, changing outfits or having my make-up done – it was exhausting, but fun! Paul shows you the photographs as they are taken and I was blown away with the changes that I was seeing.  He photographed me wearing my Matric Dance dress that I last wore 12 years ago. I loved this dress, but I almost threw it away because I never thought I would wear it again. I felt overwhelmed.
I never weighed myself the morning of my shoot, but that evening after indulging at a celebration dinner with my husband, I decided to step on the scales. It registered 80.2kg! I had reached my goal. And if this didn't make me excited enough, the next morning I was offered my dream job, so for the past few days I feel as if I have been walking on air.
Until now my focus has been on eating more healthily, introducing activity and creating balance in my life. I've now signed up for another course with the GloryGirls and I am ready to boost my health and fitness levels even more. This has been an amazing year so far and I can't wait to see what the rest of 2013 has in store."
WHAT I'VE LEARNT
Just start! If you're thinking about kickstarting your own weight-loss campaign, don't procrastinate any longer. The journey is the destination.
Get the right people around you Surround yourself with people who inspire you and challenge you to dream.
Focus on your goal Stay committed – your body and circumstances will challenge you and question how badly you want to lose weight and be healthy.
Find activities you enjoy Walk your path, not someone else's!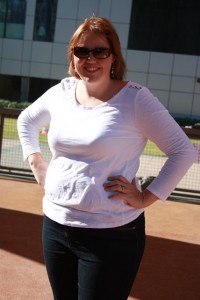 BEFORE: Laura in December 2011, wearing the size 22 jeans that made her so determined to kickstart her weight-loss campaign.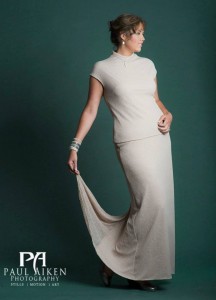 NOW: Wearing the dress from her Matric that she thought she would never get to wear again.
0