Tips For Taking On An Ultramarathon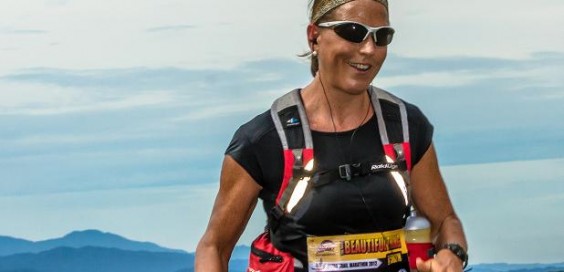 Tori Leckie, athlete and owner of www.fitchicksandfastwomen.com, gives us the lowdown on what we need to know when we're ready to increase the km
TRAIN YOUR BRAIN
It's not just your body that you need to work out, but your brain. Your mind needs to be as finely-tuned as your body to deal with those inevitable tough moments. In the weeks leading up to the race, I'll do a lot of visualisation and meditation techniques and I will also prepare for 'time on my feet.' You need to teach yourself to keep going when your legs are tired, so I will either do a class straight after a run, or do back-to-back runs (morning and evening). If you've practiced the sensations you will encounter during a race, they are much easier to deal with come race day.
PLAN FOR THE TERRAIN
Trails come in all shapes and forms. Easy trail running might be a dirt road or wide, flat path with no obstacles in sight, while more technical terrain will often mean crossing rivers, climbing over rocks, and so on… Training on the likes of a treadmill will never suffice for technical trails because you need to really work on balance, core strength and flexibility. This means working your arms, improving your functional strength and strengthening your core with the likes of yoga, Pilates or Bosu balls.
KNOW THE FORMAT 
Some races are single stage (run all in one go), others multi-day (run over a number of days with the collective times determining the results) and some thanks to their very length are run through the night.  Each brings its own challenges. When you're running at night you need to use a head torch and as the light from a head torch is narrow and focused, so you need to incorporate this into your training. If you're signing up for a multi-day run, you need to do plenty of 'time on your feet' training, so that when you wake up hobbling on days two, three, four and so on… you have the ability to get out there and run again.
MATCH YOUR WORKOUT TO THE WEATHER 
Races can be in the hot, dry desert or in the cold, snow and ice. You need to think about the clothing you'll need, the equipment required and also how to adapt your training. For hot races, spend time in saunas, train during the heat of a summer day and find a hot yoga class. For cold training, your only option is Ski Dubai. In terms of altitude, book a session at an altitude chamber or if that's not possible get into the best cardio shape that you can. And to prepare for those ascents, do a lot of stair climbing – all you need is a skyscraper and a set of stairs.
GET READY TO GO IT ALONE
Some races are fully supported with regular aid stations so all you need carry is a small bottle of water, others are not supported and you therefore need to carry a pack. Mandatory kit lists are common and will require you carry first aid kits, emergency blankets, a head torch plus a spare backup, food, drinks, mobile phones etc. For multi-day runs, you normally carry everything you need including your sleeping bag. This means that you need to train with 9kg on your back. I tend to run to the mall with an empty pack then fill it up and run home. Now, that's what you call multi-tasking!
Tori Leckie is a writer, runner, blogger and adventurer. Follow her at www.fitchicksandfastwomen.com.
0