Mental Toughness Masterclass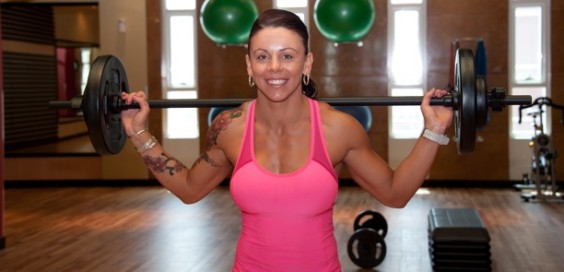 Double World Record holder and Dubai's Fittest Woman Eva Clarke reveals the techniques she used during her World Record workout
Ex-Australian military PT Eva Clarke dropped and gave us 383 back-of-hand push-ups to break two world records and raise funds for Abu Dhabi's Gems American Academy PE department. The previous record was 112 repetitions and Eva smashed this, coming in at 250 consecutive push-ups and 383 in 15 minutes on the back of her hands. So what we wanted to know is what were the mental tricks that Dubai's Fittest Woman used to make sure she reached her goal?
I VISUALISE THE FINISH
I close my eyes and put myself in the arena, track or gym, then I visualise the goal I wish to attain. If you can see yourself achieving your goals your mind is in the right gear and the will to win has just begun.
I SAY IT OUT LOUD
I say it over and over again to myself, so much so that it won't be an option to quit. I also post my challenges on Facebook and tell everyone what I am doing, because I never ever want to come back from an event or challenge and have to explain to those who matter that I failed because I failed myself.
I PULL ON MY EXPERIENCES
When you sign up for an ultramarathon you need to make sure that both your mind and body are prepared, so I establish a training routine that lets me experience what I'm going to let myself in for.
I KNOW THAT IT WILL END
When I start an event be it an ultramarathon, circuit or WOD I know that it will be over. Whether it's 17 hours, 20 minutes or even five minutes I know it hurts, but I know this is only temporary, it isn't going to be a lifetime of pain.
I THINK OF PEOPLE WHO HAVE ENDURED MORE
I think about soldiers who endure months and years away from loved ones, I think about people battling cancer, I think about parents who lose a child and I think about people in poverty. When I put that in comparison to what I am doing I feel weak even at the thought of quitting.
To find out more about how you can donate to Abu Dhabi's Gems American Academy PE department visit www.huafitness.com.au
0