Healthy Bites By Dubai Food Bloggers Fennel And Mango Salad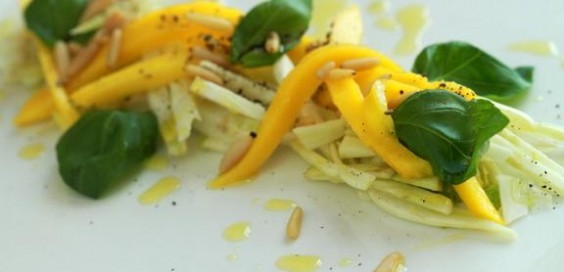 Marta of www.martaskitchen.com has whipped up a healthy salad just for us
Serves 2
Ed's note: The fennel needs to be prepped ahead of time. Do this the night before.
1 fennel bulb
1 ripe mango
A bunch of fresh basil leaves
A handful of pinenuts
1 small red onion
2 limes
1 spoonful brown sugar
1 garlic clove
1 small red chili
4 spoonful rice vinegar
Extra virgin olive oil
Salt and pepper

Start by pickling the fennel. To do so, mix in a bowl the finely chopped garlic, with the rice vinegar, chopped chili and sugar. Now finely slice the fennel and keep it in the vinegar mix for at least six hours.
To prepare the salad simply slice the mango and mix in a bowl with the fennel, some pinenuts, finely chopped onion and fresh basil leaves. Add salt and pepper to taste, lime juice and olive oil. Enjoy!
0