Seafood Barbecue Recipes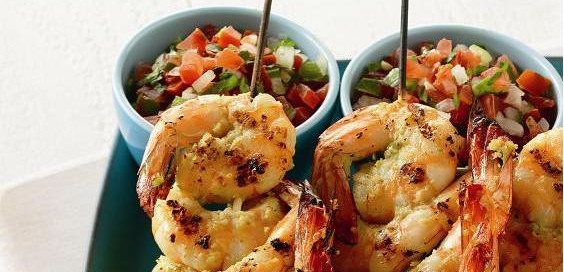 There is more to barbecues than burgers. Spark up the barbie and get an omega-3 fix
Cilantro-Marinated Shrimp
Serves:  4
Prep time: 20 minutes
Marinating time: 10 to 15 minutes
Grilling time: 2 to 4 minutes
You'll need:
Metal or bamboo skewers (if using bamboo soak in water for at least 30 minutes)
Marinade
½ cup coarsely chopped yellow onion
½ cup loosely packed fresh cilantro leaves
2 tablespoons vegetable oil
2 tablespoons fresh lime juice
1 jalapeño chili pepper, seeded and coarsely chopped
1 tablespoon minced garlic
1½ teaspoons sea salt
1 teaspoon ground cumin
550g large shrimp, peeled and deveined, tails left on.
Your favourite salsa
1. In a blender, combine the marinade ingredients and process until smooth. Put the shrimp in a large, resealable plastic bag and pour in the marinade. Press the air out of the bag and seal. Turn the bag to distribute the marinade, place in a bowl, and marinate for 10 to 15 minutes.
2. Remove the shrimp from the bag and discard the marinade. Thread the shrimp onto skewers. Grill the shrimp over direct high heat, with the lid closed as much as possible, until the shrimp are firm to the touch, lightly charred, and just turning opaque in the centre, 2 to 4 minutes, turning once or twice. Remove from the grill and serve warm with salsa.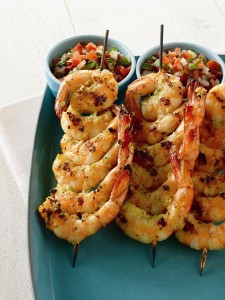 Ginger And Miso Black Cod In Banana Leaves
Serves: 6
Prep time: 20 minutes
Marinating time: 2 hours
Grilling time: 8 to 10 minutes
Marinade
1/3 cup white miso paste
¼ cup unsweetened coconut milk, stirred
2 teaspoons minced garlic
2 teaspoons granulated sugar
1 teaspoon finely grated fresh ginger
6 skinless black cod (sable fish) fillets, 125g each
6 banana leaves, each about 30cm square
6 scallions, white and light green parts, thinly sliced
1½ teaspoons low-sodium soy sauce
4–6 cups steamed rice, optional
1. In a small bowl, whisk the marinade ingredients into a smooth paste. Smear the paste all over the fillets. Cover with plastic wrap and refrigerate for 2 hours.
2. Rinse the banana leaves under cool running water.
3.Remove the excess marinade from the fillets, discard the marinade, and place each fillet on the centre of a banana leaf. Place some scallions on top. Fold the leaf over to completely enclose the fillet and make a packet. Secure with a toothpick, being careful not to pierce the fish. Brush each packet on both sides with water.
4. Grill the packets over direct medium heat, with the lid closed as much as possible, until the leaves are blackened in some parts, 8 to 10 minutes, turning once. Remove one of the packets from the barbecue to check the fish for doneness. If it is opaque all the way through, the fish is done. If not, return to the barbecue for a few more minutes.
5. Carefully open each packet, remove any pin bones from the fillets, drizzle each with ¼ teaspoon of soy sauce, or more to taste, and serve with steamed rice, if desired.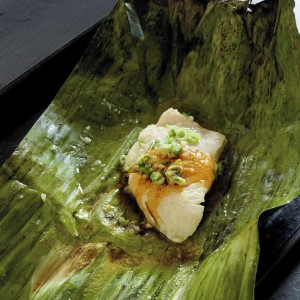 ©Weber-Stephen Products LLC. Recipe from Weber's Time To Grill™ by Jamie Purviance. Used with permission – issued by Weber-Stephen Middle East.
0