Calorie Saver! Spiced Apple Crumble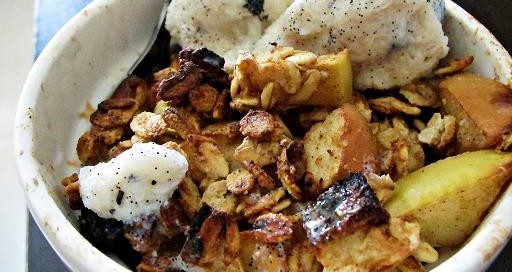 Love homemade apple crumble, but not the calories? Dubai yogi and foodie Noura El-Imam shows us how to give this traditional dish a makeover. 
Serves 1
220 calories (regular apple crumble 345 cals)
You'll need
1 medium-sized apple, diced small
1/8 tsp salt
2 tbsp milk of choice
1/2 tsp cinnamon powder, 1/2 tsp ginger powder
1 stevia packet or 1-2 tbsp sugar
slivered almonds, raisins (both optional)
3 tbsp quick oats
2 tsp flour
1 tbsp oil or low-fat spread
1 Preheat oven to 250F. In a  microwavable mixing bowl, combine first five ingredients (and optional add-ins, if desired). Stir well and microwave for 20 seconds.
2 In a separate mixing bowl, combine remaining three ingredients and stir well.  Mix everything together and pour into a ramekin or oven-proof bowl. Bake 25 minutes (in the middle of the oven, not the very top), then turn the oven to fan for 2-3 minutes to give the topping a crispy end. Turn off heat and wait for 5 minutes to cool down.
3 To serve, top with your favourite Greek yogurt or low-fat vanilla ice-cream (just add 60 calories).
For more of Noura's recipes see http://yogalatesblissblog.wordpress.com
0