Healthy Smoothie Recipes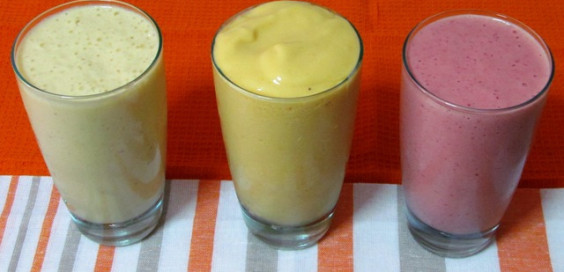 The chefs at the new international restaurant Kris Kros took time out of their launch to whip up some mouthwatering smoothie recipes just for The Sweat Shop. 
To make the smoothie:
Place all of the ingredients listed into a blender and whizz until smooth.
MINTED BANANA
Bananas come packed with vitamin B6 that helps you grow new cells.
3 tablespoons lemon or lime juice
1/2 banana
3 mint leaves
1/2 cup milk
Ice
EXOTIC BLEND
Dairy-free smoothie alert!
4 strawberries
1/2 cup mango puree
3 tablespoons lemon or lime juice
1 cup orange juice
Ice
AVOCADO PUNCH
Avocados are a nutrition powerhouse. They contain more than 20 essential nutrients including folic acid.
1/2 small avocado
1 rocca leaf
1 cup milk
2 tablespoons honey
Ice
PINEAPPLE CRUSH
If you thought that you can only get your vitamin C fix with oranges think again. Pineapples are bursting with this powerful antioxidant.
Ice
2 tablespoons lemon or lime juice
1 cup pineapple juice
1/2 cup milk
Kris Kros is now open at Sheikh Mohammed Bin Rashid Boulevard, Boulevard Plaza Tower II, Dubai.  Call +971 (0)4 422 1755 to book. Visit https://www.facebook.com/KrisKrosUAE for more information.
0