Bring Your Outdoor Workout Inside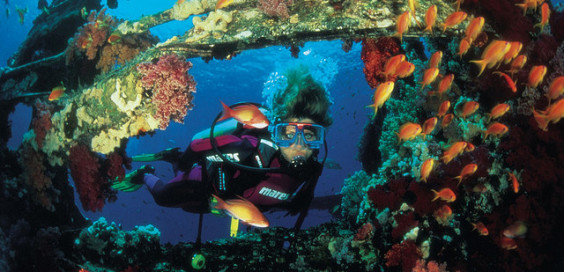 You don't need to hibernate until the winter months. You can still enjoy your outdoor workout, indoors…
SCUBA DIVING
Switch that sweaty boat ride out to the reef for a dip in the tank at Dubai Mall. Not only are you guaranteed a shark sighting, but you don't have to drag your tank across the beach when the sun is beating down upon you.  From Dhs290. Visit http://www.thedubaiaquarium.com.
ROCK CLIMBING
If the only stretching out you've done over the summer months is on the couch, head to the indoor climbing wall at Wafi. While it's smaller than some of its competitors, you won't be fighting the humidity when you make your ascent as this is safely tucked away inside the mall. And if that's not enough, there's also a boulder cave to play with too. Visit http://www.wafi.com/
SKIING
Keep your ski legs in shape during the off-season by stretching them out at Ski Dubai. The slope also runs freestyle nights so you can still practice your tricks when it's 50 degrees outside. http://www.theplaymania.com/skidubai. Priced Dhs200 for two hours.
SKYDIVING
Forget about queuing up with your parachute on that roasting landing strip and head to Mirdif City Center. You can still get your adrenalin fix, but in the aircon-filled environment of iFly (http://www.theplaymania.com/ifly). Priced from Dhs215 a session.
SPRINT TRI
Want to practice for that sprint tri without going into meltdown? Here's a three-prong attack that will help you keep your cool while you're working at 100 per cent. Hit the pool at the Sheikh Hamdan Sports Complex for Dhs20 (http://www.hamdansc.com); master your sprints on Dubai Sports World indoor running track for free (http://www.dwtc.com); and put in a thigh-blasting session at Flywheel from Dhs110 (www.dubai.flywheelsports.com). .. Or you could set your alarm a little earlier and join the hardcore pack outside…
0