Low-Calorie TV Snacks
Switch the pizza and family-sized box of chocolates for these low-calorie TV snacks created for The Sweat Shop by the chefs at U've Got Meal (www.uvegotmeal.com)
Vietnamese Summer Roll 

3 rolls = 115 calories
You'll need
20g beansprouts
1 small carrot
1 small cucumber
1 fresh mint leaf
1 fresh coriander leaf
3 pieces rice paper wrap
1 tbsp soya sauce for dipping
To make
Slice the ingredients into 2.5cm strips. Wet the rice paper a little to make more pliable. Place the ingredients horizontally on top of the rice wrapper. Fold the bottom of the rice paper over the ingredients and roll up. Serve with the soya sauce dip.
Mixed Fruit Salad With Cottage Cheese 
200g portion = 120 calories
You'll need
75g red or green apple, diced
4 green grapes, halved
4 strawberries, quartered
1 tbsp cottage cheese
To make
Place the fruit in a bowl then top with the cottage cheese.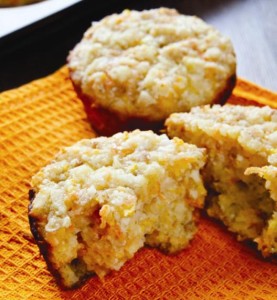 Orange Oat Muffin
A 65g muffin = 115 calories
You'll need
½ cup whole wheat flour
1 tbsp honey
1 ½ cups oat bran
Pinch of baking powder
Pinch of baking soda
Pinch of cinnamon
1 cup milk
1 egg
1 tbsp grated orange rind
2 tbsp orange juice
To make
Preheat oven to 200°C/400°F. In large bowl, mix the flour, honey, oat bran, baking powder, soda and cinnamon. In a separate bowl, combine the milk, egg, orange rind and juice. Stir wet ingredients into dry ingredients. Spoon into greased muffin tins. Bake for 18 to 20 minutes. Leave to cool, then serve.
Dark Fudgy Brownies
A 65g slice = 120 calories
You'll need
½ cup (1 stick) unsalted butter
50g unsweetened chocolate
2 eggs
½ teaspoon vanilla extract
½ teaspoon of honey
1/3 cup wheat flour
1/8 teaspoon salt
1 cup chopped walnuts, optional
To make
Preheat oven to 180°C/350°F.  Melt the butter and chocolate together in a medium pan over a very low heat. Stir together and remove from the heat. Add honey, egg and vanilla, mix well. Stir in the flour. Add walnuts. Spread the mixture into a buttered 20cm square pan. Bake until set, about 40 minutes. Cool before cutting.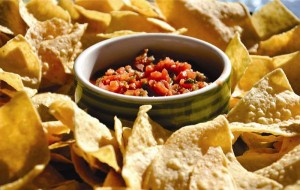 Baked Nachos With Salsa
1 cup of salsa sauce + 40g of baked nachos = 115 calories
For nachos
1 cup wheat flour
1 tsp butter
Salt to taste
½ tsp pepper powder
½ tsp baking powder
For salsa
2 large ripe tomatoes (canned variation), chopped
2 small shallots, chopped
Handful of fresh coriander, chopped
1 garlic clove, chopped
Splash lime juice
1 large jalapeño pepper, chopped
To make
Preheat oven to 180°C/350°F Mix all the ingredients and make a stiff dough. Let it rest for 30 minutes. Knead well and roll the dough out into a large, thin, square. Cut into small triangles and prick it with a fork. Place on a greased baking dish, and bake for 5 minutes.
In a medium-size mixing bowl, combine tomatoes, shallots, coriander, garlic, lime juice, and salt to taste. Mix well. Add 1/2 of the jalapeno pepper and taste.  Cover the salsa, and chill until ready to serve.
0