Protein-Packed Dinner Alert!
Refuel post workout with this dish from Bo House Cafe (http://bohousecafe.com) that's chock full of protein and omega-3
Grilled Salmon With Camargue Red Rice
200g fresh salmon
5g salt
5g crushed black pepper
150g camargue rice
10g fish stock
20g butter
10g garlic, chopped
10g onion, chopped
10g lemon grass, finely chopped
20ml olive oil
10ml honey
20ml Dijon mustard
30ml ketchup
20ml yakitori sauce
20g Brussels sprouts, sauté
Season the salmon with salt and black pepper. Then grill the salmon until done. Boil the rice in a fish stock until the rice is soft then add butter.
To make the sauce: Saute garlic, onion, lemon grass in an olive oil, then add honey, mustard, tomato sauce and yakitori sauce. Mix together until it thickens. Place in a small jug or bowl.
Place the rice on the plate, top with the salmon and garnish with sautéed Brussels sprouts. Serve with the sauce.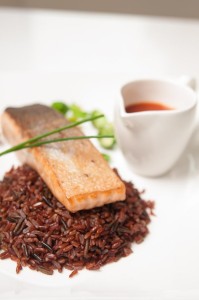 1