6 Workouts For Adrenalin Addicts
Bored with your regular workout? Well, read on, because these activities are sure to get your pulse racing…
DIVE WITH SHARKS
If you really want to get your heart racing, try climbing into a tank with sharks. Dubai Aquarium & Underwater Zoo gives guests the chance to get up close and personal with the kings of the deep. (Bet you're hearing the Jaws music already.)
SWEAT IT! Price from Dhs290 to Dhs1,875 per person, depending on the package you choose. Certified and non-certified divers allowed. Visit www.thedubaiaquarium.com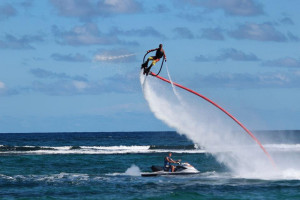 FLYBOARD
If it's good enough for Leonardo Di Caprio, it's good enough for us. Flyboarding is now available in the UAE. An instructor will brief you on your gear and techniques, then you can enjoy 30 minutes of levitating above the ocean or splashing into the waves.
SWEAT IT! Price Dhs300 per person. Book now at www.dreamdays.ae.
BUNGEE
Head to Gravity Zone for a sky-high adrenalin rush. The team offer bungee sessions, plus they are about to launch – ahem – a catapult, zip wires and abseiling classes too.
SWEAT IT! Bungee jump from Dhs339. Find Gravity Zone in Al Quoz. Log onto www.gravityzone.co for more details.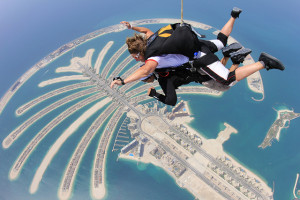 SKYDIVE
Skydive Dubai Palm has just opened for the winter season. So pull on your parachute and get ready to take your best Facebook photo – ever! During your three-hour experience, you will learn the skills you need to make a tandem jump over one of the world's most talked about locations.
SWEAT IT! Priced Dhs1,999 per tandum jump, including video and stills. Log onto www.skydivedubai.ae to book.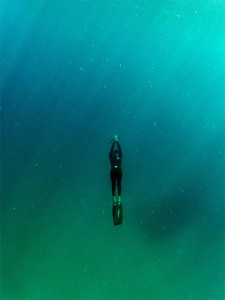 FREEDIVING
If you want to know what your body is really capable of, sign up for a freediving course. Run by freediving champion Sara-Lise Haith, you will be able to give your legs and core a workout as you explore the beauty of the deep.
SWEAT IT! The AIDA freediver course is priced Dhs2,430. Log onto www.alboom.com/freediving to book.
ZAPCAT
Speed freaks are going to love the Zapcat that you can co-pilot along the shores of the Gulf. Sitting in a boat doesn't sound much of a workout, but, try holding on for 30 minutes when you're bouncing across the waves.
SWEAT IT! Priced Dhs250 for 30 minutes. Log onto www.watercooleddubai.com to book.
0