Five-Star Food: Braised Cod, Charred Fennel and Sesame Bok Choy
Written by The Sweat Shop // Sweat Fuel // Comments Off on Five-Star Food: Braised Cod, Charred Fennel and Sesame Bok Choy
The chefs at The Address Dubai Marina whipped up a healthy dish just for us. Packed with omega-3 and vitamin C – what's not to like? Forks at the ready!
You'll Need
¼ red pepper
¼ yellow pepper
¼ rib of celery
¼ carrot
¼ spring onion
1 fennel bulb
1 tbsp olive oil
1 cup of fish stock
800g boneless cod fillet (4 x 200g )
4 pieces of bok choy
1 tbsp sesame oil
1 tbsp black sesame seeds
1 tbsp white sesame seeds
1 tsp chopped tarragon
1 tsp sesame oil
2 tsp rice wine vinegar
1 lemon
Salt and pepper
To Make
Cut peppers, celery, carrot and spring onion into long thin strips and place into a container of ice water and leave for 30 minutes.
Cut fennel bulb in half; remove core and separate leaves. Toss leaves with olive oil and season with salt and pepper. Place on a medium hot grill and cook for 1-2 minutes per side, or until caramelization occurs, set aside to cool. Once cool slice lengthwise into ½ cm pieces.
To make the broth, simmer fish stock with the charred fennel in a small pot for 2 minutes.
Preheat frying pan to medium heat, season cod fillets with salt and pepper and sear on both sides. Add fennel broth to cover one third of the way up the fish, put the lid on frying pan and simmer for 4 minutes or until cod begins to feel firm.
While the cod is simmering, quarter bok choy length wise and sauté in another pan with sesame oil for 3 minutes, add black and white sesame seeds during the last minute of cooking. Put sautéed bok choy on the bottom of a large pasta bowl and place one piece of cod on top. Ladle 50ml of seasoned fennel broth around the cod.
When ready to garnish remove cut vegetables from ice water and dry. Put all dry vegetables in a small bowl and combine tarragon, sesame oil and rice wine vinegar. Toss lightly and put on top of cod  Finish dish with a squeeze of lemon juice and enjoy!
To find out more about The Address Dubai Marina's amazing dishes and restaurants visit www.theaddress.com/en/hotel/dubai-marina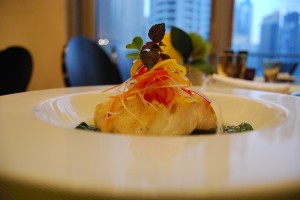 0