5 Travel Fitness Apps You'll Love
You don't need to let your fitness regime slide as soon as you fly out of Terminal 3. Take a look at these fitness apps that helps you shape up when you're away from home, says Gloria Lorenzi
Pocket Yoga
What: If you couldn't squeeze your yoga instructor into your suitcase, don't worry, just download this yoga app that comes with 27 different workouts.
Wow! Roll out your mat, choose your difficulty level, then listen to an instructor slowly talk you through your poses. If you need a visual aid, you can also check the illustrations that flash up on your smartphone. If you have a yoga jam you love, the app will let you play music from your own music library and the app will also let you log and track progress wherever you are.
Where? $2.99,  https://itunes.apple.com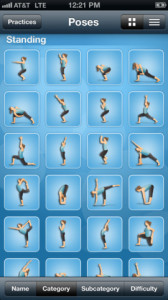 Travel WODs: Travel Workouts
What: Missing your box? Then check out this CrossFit app that comes with 120 WODs and has been getting rave reviews.
Wow! What's even better is that you don't need your barbell, kettlebell or medicine ball for these WODs. The app is designed for a CrossFitter on the road, so whether you are in hotel room, by the pool or stuck at the airport, you can still find a workout that suits your location. You can also share your WOD whiteboard entry by Facebook or Twitter so that your coach can see if you're slacking too.
Where? $2, https://play.google.com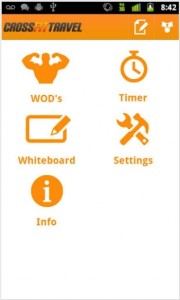 RunKeeper Pro
What: Take your own running coach with you when you travel. RunKeeper Pro tracks the pace and time of your runs while you listen to your favourite BPMs on your iPod.
Wow! If that's not enough, you can also track your calorie burn, mile splits and thanks to the phone's inbuilt GPS, see a map of your journey. If this doesn't motivate you to score a personal best, maybe the fact that your running buddies can follow your progress via Facebook or Twitter will.
Where? $9.99,  https://itunes.apple.com
Lose It
What: A hotel buffet can plan havoc with your healthy eating plan. This food journal app will help you know whether you need to back away from the dessert trolley as it counts your calories.
Wow! The app helps you set your calorie goal, then all you need to do in input what you've chowed down on throughout the day. You can do this by zapping the barcode of what you've just eaten or clicking on the menus of a host of well-known restaurants.
Where? Free, https://itunes.apple.com
Gorilla Workout
What: Whether you're starting out or a bit of an animal at the gym, the Gorilla Workout that uses only body weight exercises will devise the perfect workout for you.
Wow! The app reveals what your circuit will be for the day, and then if you're not sure of the move you can click the demo button where you can see a mini video of an instructor demonstrating the move. Typical moves include mountain climbers, Russian twists and tuck jumps.
Where? $0.99, www.gorillaworkoutapp.com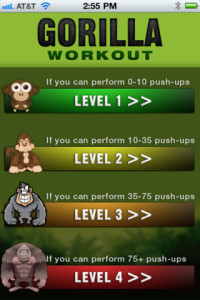 iPhone case from www.zazzle.com
0