New Dubai Class Alert!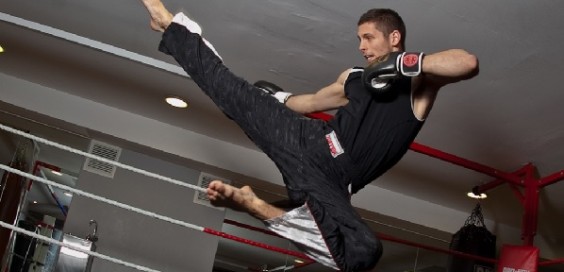 Kickboxing champion Christian Thomson has been busy giving Dubai PTs the lowdown on his Kick Fitness workout. We spoke to him about the class, how he stays in shape and ditches those final kgs for competition…
How do you push through when you reach a fitness plateau?
When I was competing it was easy, all I'd have to do was think how hard the other guy was training, how much he wanted to win and tell myself his drive was my only obstruction to winning. I also convinced myself if I didn't overcome my opponent I might get hurt. These days I just focus on the result; I paint a picture in my head of what I want and how I need to get there.
How do you maintain that peak level of fitness for competition?
That's easy for me – when I'm not training I'm teaching, which keeps me active and in the gym. Then when I compete I just turn up the training a notch.
When you're dropping weight for competition what's your secret for getting rid of that last couple of kg?
Basically the Paleo diet – lots of green leafy veg, meat, fish and poultry. This diet would last two to three weeks combined with some HIIT training for one to two weeks to speed up the metabolism and gain some much needed cardiovascular fitness. I always have one-week rest before fight day to regain my energy.
What sports do you do to aid your training?
My normal training outside of the kicking and punching consists of running and body weight conditioning work with the occasional weightlifting. As far as playing sport is concerned I'd play any sport just for the fun of it. This great for my mind, taking away the stress of training to compete.
What's your go-to snack?
Nuts, particularly almonds, walnuts and Brazil nuts for their nutrition.
What's your favourite app?
Boxing Timer – it allows you to set up a bespoke timer to whatever type of training you are doing.
Who do you train with?
I train by myself 90 per cent of the time, as there is never anyone that can train at the same times. [Early on] I travelled to every competition I could get to just to keep my fight experience high.
Tell us about Kick Fitness…
Kick Fitness is a real martial arts syllabus, so you have the opportunity for progression. The class has a warm up, a main session and a cool down. The warm up consists of fitness work and lots of body weight activities to get you moving; the main session is a workout aimed to improve your technical ability and the cool down focuses on static stretching that helps improves flexibility.
What level of fitness do you need to be to take part?
You always have to start somewhere. The best thing about Kick Fitness is you can immediately work at your own level and take part in every exercise. And if you want something more challenging, the instructor will show you a tougher alternative.
Both the Dubai Ladies Club and Gold's Gym now have trained Kick Fitness instructors so watch this space.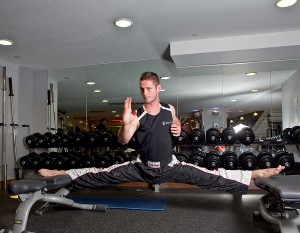 0