Chicken Curry For Paleo Fans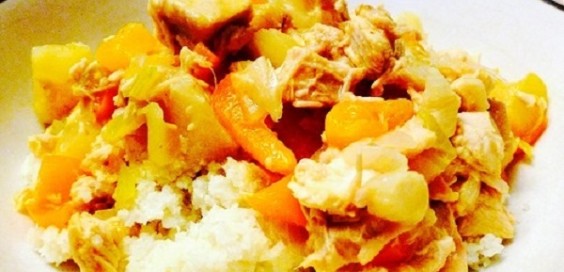 Go Organic nutritionist Chelsea Spackman has given us the lowdown on her favourite Paleo dish. CrossFit queens get excited!
Apple Chicken Curry
Time: 30 minutes
Serves 4
2 tbsp. organic butter
1 large organic apple, diced
2 cloves garlic, minced
2 shallots, minced
1 tbsp. Thai yellow curry paste (or powder)
1 organic red capsicum, diced
1 cup chicken stock
2 cups cooked chicken, chopped
1 cup coconut milk (BPA-free)
Cauliflower rice
1 large cauliflower (or 2 small)
1 tbsp. water
1 ½ tbsp. organic butter
sea salt (to taste)
To make the curry
1. Melt the butter over medium heat in a large pan. Add apples, shallots, garlic and curry paste and saute until fragrant and softened (about 3 mins).
2. Add red pepper and chicken stock and bring pot to a boil.
3. Add turkey and coconut milk and return to boil. Reduce heat and simmer for 5 minutes.
4. Serve on top of a bowl of Cauliflower Rice and enjoy.
To make the rice
1. Clean the cauliflower and cut into florets. Put through the food processor until the cauliflower has a couscous-like or rice-like consistency. Alternatively, if a food processor is not available in your kitchen, grate the cauliflower on a standing cheese grater.
2. In a pan on medium heat, add a tablespoon of water, then the cauliflower rice. Cook covered for 5 min to steam through a bit.
3. Add the butter, and allow to melt. Mix consistently to prevent the rice from sticking to the bottom of the pan, and cook uncovered for 15-20 minutes or until softened.
4. To serve, place some cauliflower rice in the middle of a plate, and put the Apple Chicken Curry on top. Enjoy!
Chelsea is a registered holistic nutritionist specialising in Palaeolithic nutrition, gluten-free, celiac and diabetes care. Chelsea has created an array of organic boxes for Go Organic ME that are full of fresh produce, meal plans and recipes. To find out more visit www.goorganic.me