7 Ultra-Marathons, 7 Continents, 7 Weeks
Charity worker Maria Conceicao, 36, will take on seven ultra-marathons across seven continents within seven weeks to help raise $1million for the Maria Cristina Foundation
Sweat Note: Last year we spoke to Maria and her team mates about their 777 Challenge. Since we spoke to them, they have been beaten by logistics and the team has had to split and take on two separate challenges. Maria is now about to take on the 777 Challenge alone.
THE NEW 777 CHALLENGE
Maria will run an ultra-marathon every weekend for seven weeks, one on each of the seven continents of the world. Maria has her sights set on claiming not one, but two such records – the fastest time to complete an ultramarathon on each continent (Female), and the fastest aggregate time to complete an ultramarathon on each continent (Female).
The Route
Jan 26 Antarctica
Feb 2 South America
Feb 7 Asia
Feb 16 Europe
Feb 23 Australia
Mar 2 North America
Mar 15 ­ Africa
THE TRAINING
Maria, who has already summited Mount Everest, trekked to the North Pole and climbed Denali, to raise funds for the Maria Cristina charity, says that the 777 Challenge will be her hardest challenge yet. She has been training for the past six months. We spoke to her about preparing for this adventure…
Q: Last time we spoke to you were attempting a 777 Challenge (7 Marathons, 7 Continents, 7 Days) with Sharon and Kristen De Souza. But you have had to now take on separate challenges…
The logistics for the original challenge are extremely difficult. It seems that the world is not quite ready for this challenge, however we are working on these issues to get it organised at a later date. I have not given up on this dream, but it means that I had to find another challenge for the interim. The other girls chose to take on another tough challenge that still is 7 marathons in the 7 continents, but in 96 days total. They are really determined and I am super proud of them.
Q: How are you training for the event?
I train six days a week. I do personal training sessions with Taif Delaimie of Up & Running as well as spinning classes and swimming sessions to boost my cardio. I also do yoga at Gems of Yoga to increase my balance and flexibility.
Q: What is going to be your biggest challenge?
My biggest challenge for 777 is mental burnout. After the 777 challenge in 2011 [seven marathons in seven days across seven Emirates], I was in a bit of a state. It was an demanding challenge, which I hadn't trained sufficiently for. I underestimated the toll on my body and, surprisingly, my mind. Two months after the event I was still experiencing a mind and body block. It was suggested I see sports psychologist Caren Diehl. I don't talk much about the pressures of these challenges, but they are never far from my mind. I need to harness any subconscious concerns so I can focus on training and Caren helps me with this."
Q: What changes have you made to your diet?
Oh boy. I was a junkie, eating all sorts of bad food – pizzas, donuts, chocolates, ice cream… and it was tough for me to shift to lots of fish legumes salad …
Q: What is the one thing that you'd like a runner to know if she is taking on a similar challenge?
Keep in mind that you will have to devote an entire year just to do this event and everything else in your life will have to subordinate to this goal.
To find out more about this challenge or to donate visit http://mariacristinafoundation.org/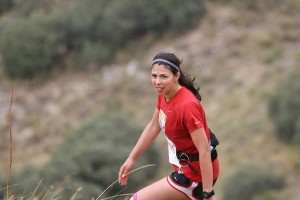 0