The Gym For Athletes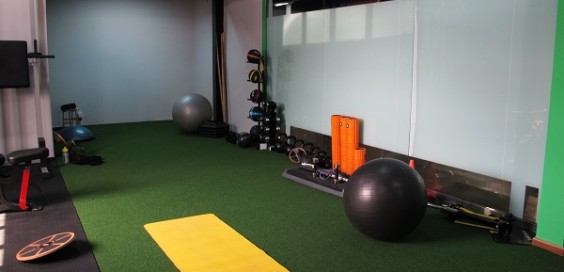 Sweat Tested! FAST Gym, Al Quoz, Dubai
Sweat Tester: Runner Anja Schwerin
They Say: We are not a gym – we are a performance centre. Athletes come here because they want to find out what they're physically capable of. They want to know how they can move better, how they get can stronger, faster and more powerful.
We Say: If you want a gym that's full of mirrors so that you can check out your tan, then FAST is not for you. You don't come here to socialize, you come to train.
The gym is equipped with treadmills, stationary bikes and dumbbells. No static machines. Instead there are Swiss balls, Buso balls, resistance bands, wooden sticks, cones, TRX suspensions and all sorts of buys that challenge your balance.
I worked out with Head coach and Ironman Joao Marcelo.  After giving me a thorough initial assessment, the certified triathlon coach explained that he would use the first session to find out more about a client's fitness goals and then create bespoke circuits to would focus on their fitness goals, strengths and weaknesses.
It was clear that FAST isn't about group workouts, it's more about individual treatment – the gym takes a maximum of five people. Joao supervised me at all times, corrected my technique when needed, and adjusted my workout. When I explained that I was a runner he gave me bodyweight and balance exercises that would help engage the muscles I'd use when hitting the bricks. He said I should focus on core and back training as I would not need a big chest or bicep muscles.
Joao had detected my weak areas during my warm-up. He spotted a muscle imbalance between my left and right leg. I have recently been experiencing ongoing niggles in my right groin and an imbalance could explain it. He said that one side of my body was stronger and more mobile than the other so he came up with some exercises to strengthen the other side.
Joao explained that strength training for runners should never be exhausting, as I should save my energy for the running. The strength training would just support my sport.
Sweat Results With the personal and individual approach to fitness and Joao's comprehensive knowledge of the sport, the benefits will be huge for beginners as well as competitive athletes. Also as only five people are allowed in the gym at the same time, you can guarantee almost individual attention. What's more, you don't pay any more for this as it's part of the monthly membership.
0