Are Barbecues Making You Fat?
We know you love your braais, but would you love them as much when you know that they're packing 3,000 calories?
We dropped our wholewheat burger bun when the figures hit our office. Diet company Forza Supplements surveyed over 1,000 people and found that the average barbecue equates to just under 3,000 calories. That's 1,000 more than the average daily intake for women.
The average barbecue plate features two sausages, one-and-a-half burgers, two chicken drumsticks, one and a half meat skewers, fish, a baked potato, a green side salad, pasta salad, a desert and a bowl of fruit salad. And if that's not enough, half of the people surveyed admit to going back for seconds and more than a fifth having thirds.
Here's how to kill the calories, but hold onto the flavour…
HOLD THE… Beef burger (304 cals)
HAVE THE… Grilled salmon fillet (150 cals)
HOLD THE… Pasta salad (278 cals)
HAVE THE… Mixed green salad (109 cals)
HOLD THE… Potato salad (145 cals)
HAVE THE… Baked potato (29 cals)
HOLD THE… Lemonade (50 cals each glass)
HAVE THE… Homemade lemon ice tea (18 cals each glass)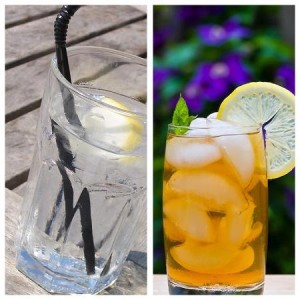 HOLD THE… Vanilla ice cream (133 cals)
HAVE THE… Fresh fruit salad (84 cals)
NEW TOTAL: 390 CALORIES
*Cals on average serving.
0