Snacks For Your Office Drawer
Stop that snack attack in its tracks by stashing these healthy buys in your office drawer. 
Perry Court Farm Air Dried Apple Crisps (Dhs6.25, www.earlybird.ae) 
You get the sweetness fix you need, but a fraction of the calories. Plus each bag is said to equal one of your five a day.
Celebes Organic Coconut Water (Dhs5, www.supermart.ae)
Packed with electrolytes, it's no surprise that coconut water has been named nature's sport drink.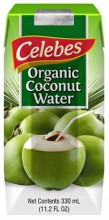 Kind Fruit And Nut Delight (Dhs5.75, supermarkets)
Brazil nuts, almonds, apricots and raisins are just some of the goodies tucked into this go-to bar.

Lipton Peach Mango Tea (Dhs12, supermarkets)
Kick that chocolate pang into touch with a cup of sweet peach mango tea. It will quench your thirst and give you that sweet fix you need.
Gyma Pumpkin Seeds (Dhs12, supermarkets)
These seeds are high in magnesium – which is good news for all office workers as it is said to your circulation, relax your nerves and strengthen bones.
0